Do LGBTQ+ people have a higher than average suicide rate?
Yes, probably. Because the Center for Disease Control and Prevention does not track the sexual orientation of suicide victims, completed suicide rates are difficult to determine.[1]
However, LGBTQ+ individuals show higher rates of behaviors associated with suicide—such as attempting suicide and suicide ideation.[2]
What are the reasons for this?
There are probably many reasons. Much of all research on LGBT suicide focuses on negative environmental factors, such as social stigma, familial rejection, and discrimination as contributing to a higher risk of suicide.[3] However, sexual minorities are also more likely to experience suicide risk factors such as drug abuse,[4] STDs,[5] severe mental illness,[6] and homelessness.[7]
LGBQ Suicidality in Utah Students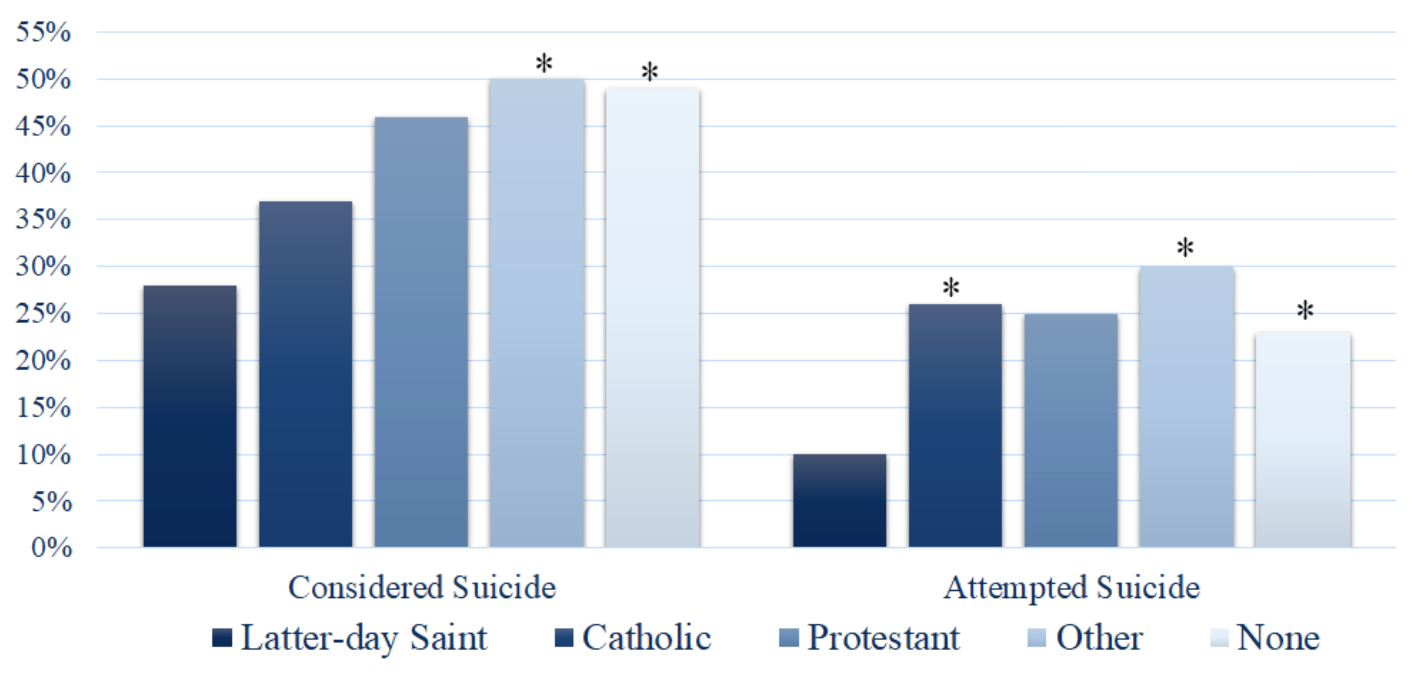 Does the Church contribute to a higher suicide rate in LGBTQ+ people?
Possibly. The data is mixed on this.
Studies using government and general population surveys suggest that sexual minorities who are Latter-day Saints in Utah report better mental health and significantly lower suicidality than non-Latter-day Saints.[9][10]
Other studies using online surveys[11] suggest that Latter-day Saint sexual minorities report worse mental health than their non-Latter-day Saint counterparts.[12]
Still other studies show no difference in mental health or suicidality.[13]
Does Utah have a higher suicide rate for LGBTQ+ people than other states?
It's unknown. There isn't a study comparing LGBTQ+ suicide rates in Utah versus other states.
Does discussing Latter-day Saint/LGBTQ+ suicide help prevent suicides?
Possibly, though public discussion of suicide can have negative impacts.[14] Creating awareness of risk factors related to suicide is important for prevention and mitigation.[15] But it can also result in increased suicide ideation and behavior.[16]
Deaths by suicide are most often informed by multiple overlapping causes, so framing suicide as a reaction to a single factor can be harmful.[17]
Juni


"

I appreciate Mormonr. I think it is important to note that simply "being gay" is not a sin any more than "being straight." And I think we need to be more accepting and loving of our gay brothers and sisters.

"

James N


"

I think the important thing to remember is that Christ loves all God's children. This doesn't mean he excuses Sin but instead he offers a way for us to "... escape temptation..." We should all identify as Children of God as He identifies us, not by some worldly label.

"

C Anders


"

The Church unfortunately has a very poor record concerning the LGBTQ Community . . . The Church needs to finally comes to terms with this community. Not just loving them, but accepting them.

"

Jacqueline MG


"

I want any LGBTQIA+ people who read this comment to know that I love you and want you to feel safe and welcome with me. I don't understand all of how God's plan works, but I want to worship and learn with you. Zion takes everyone!

"

Emily G


"

This makes me really sad. I don't understand a lot of things, but I want the gospel to be a welcoming place for all of God's children. I don't know how to make it better besides loving people and trying to be there.

"
Read More Difficult Questions