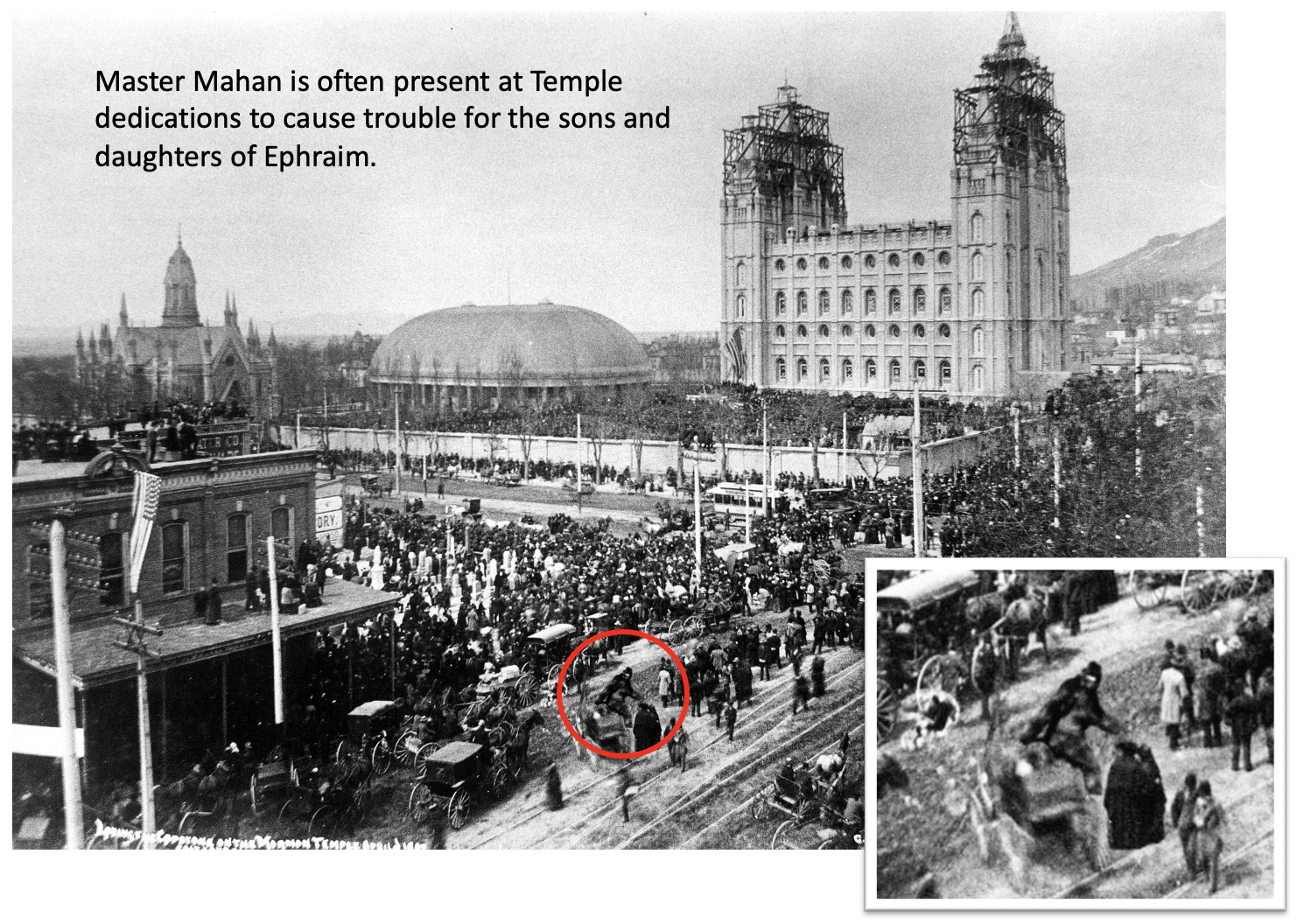 Why do some people say that Cain is Bigfoot?
Mostly because of a passage in Spencer W. Kimball's[BIO] book Miracle of Forgiveness. The passage records an account claiming Apostle David W. Patten[BIO] met a very large, hairy man who identified himself as Cain[BIO] during a mule ride.[1] Although Kimball doesn't identify Cain as "Bigfoot,"[BIO] this idea has become part of Mormon folklore.[2]
Why did Spencer W. Kimball put that story in Miracle of Forgiveness?
It's unclear why Kimball included the story. It comes at the end of an account about Cain when he is talking about the consequences of sin and how people can sin against the light they have been given.[3] It seems like the David W. Patten account is just included because it is an interesting story about Cain, and Cain was referenced in the preceding part of the book.
Is this account reliable?
Not really. Kimball reprints a secondhand account written 65 years after the event supposedly happened.[4] The earliest retelling of the Patten account is from an undated handwritten record from Horace Rawson.[BIO][5]
Isn't this story super weird?
Yes.
Are there other accounts of Cain-Bigfoot sightings in Church history?
Yes, there are two other documented cases of Church members encountering a "Cain-like" figure. One is an account of E. Wesley Smith[BIO] who purportedly encountered someone who may have been Cain.[6] The other is from Horace Rawson,[BIO] an early church member. He claimed to have met a "very strange" man in Nauvoo in 1847 that he could not identify but said he fit the description of Cain.[7]
How did the Mormon idea of Cain get associated with the existing myth of Bigfoot?
This is unclear. Some secondary sources suggest that some connected the two in the latter half of the twentieth century in the Mormon corridor region when members of the Church tied Bigfoot sightings to the David W. Patten account.[8]
Is Cain really wandering around the earth?
Probably not. Different traditions have him dying in various contexts.[9]
Has the Church ever made an official statement about Bigfoot or cryptozoology?
The Church has no official statement on Bigfoot. Several Church leaders were reportedly open to the possibility of the Bear Lake Monster.[BIO][10] However, modern Church leaders have never discussed the subject.
Lucinda


"

I really think the church should take this more seriously and do some real investigations and genetic studies to get to the bottom of this question.

"

Bill L.


"

The story is intriguing. Cain was cursed and many would consider it a curse to live a mortal life of thousands of years experiencing many tragedies. Perhaps a living Cain can attest to many lost truths about forgiveness and repentance.

"

Ron L


"

My FIL heard Wesley Smith relate the his experience with Cain in a Sunday School class in the late 1960's. At the time Bro. Smith was the Mission President in Hawaii and it happened the night before the dedication (by Heber J. Grant) of the Hawaiian Temple in 1919.

"

Terry


"

I've heard a lot of stories like this one. Like the one about lift shafts in the Salt Lake Temple, which some people I know believe. Testimony notwithstanding, skepticism is healthy.

"

Bradey S


"

This is so goofy, I love it. I wonder what Cain did during the Great Flood of Noah.

"
Read More Difficult Questions